War Is for 'Soul of Humanity,' Ukraine Consul General Tells Arizona Legislators
Topic starter
08/04/2022 3:45 pm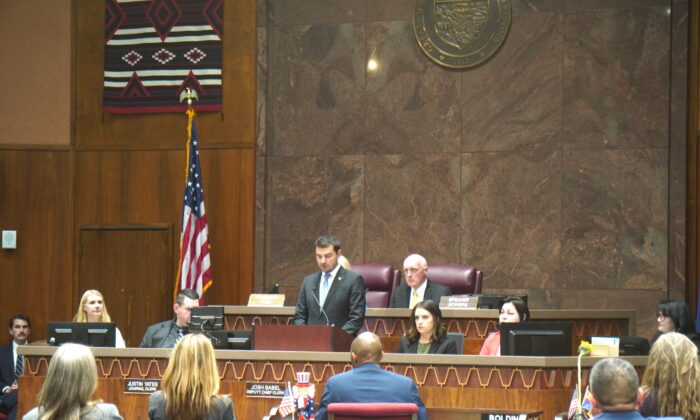 War Is for 'Soul of Humanity,' Ukraine Consul General Tells Arizona Legislators
PHOENIX, Ariz.—Ukraine's Consul General Dmytro Kushneruk addressed a joint session of the Arizona Legislature on April 7, asking for more military and humanitarian support to end the Russian invasion.
"Ukraine has defeated Russia's objectives in the first phase of this war," he said. "Time is of the essence," while Ukraine "has the momentum."
"We have the one common enemy, which is Russia," Kushneruk said.
Kushneruk's 17-minute address was made at the request of House Speaker Rusty Bowers (R) and was greeted by rounds of applause and standing ovations by state lawmakers.
"Compared to the horrific attacks upon the nation of Ukraine, we felt it was a distinct honor to have Dmytro Kushneruk, the consul general of Ukraine, come and speak to us," Bowers told the legislative body.
"Since that unprovoked and unjustified Russian invasion on Feb. 24, Mr. Kushneruk has been working tirelessly to support the efforts of the Ukrainian people's independence in defense of their country, and to support refugees and victims of that conflict."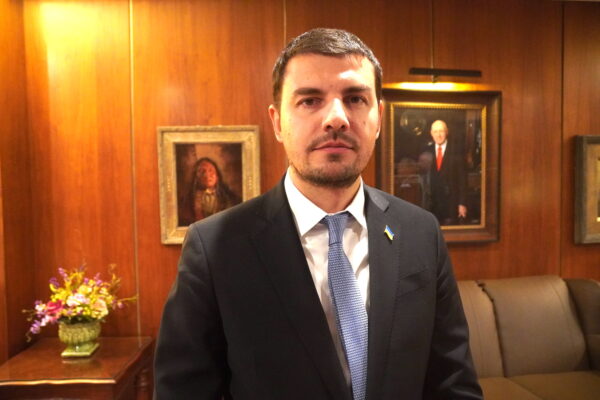 Arizona Senate President Karen Fann said, "I hope we will all take time to appreciate how fortunate we are. We have the greatest military to protect us so we can live this way. 
"The war in Ukraine is abstract since many of us have never witnessed it firsthand. We haven't faced the terror, despair, and battles for our life that they are experiencing right now."
'Putin's Terror'
Fann said Arizona's state government will continue working "to offer as many resources as we can" against what she called "Putin's terror," and that Ukraine President Volodymyr Zelensky "exemplifies" John F. Kennedy's ideal of service to country.
In his opening remarks, Kushneruk said that 40 days after the Russian invasion he never expected to be standing in front of the Arizona legislature seeking help for his country.
He said the war is about his country's right to exist. 
"It has always been about Russian control over Ukraine and Ukrainians. But [Russian President Vladimir] Putin doesn't recognize the nation-state. Ukrainians are proving the exact opposite every day," Kushneruk said.
He said the fight is about "the right to live in a free society," though Russia predicted the war would wrap up in two days. It is "now suffering [military] damage that will take years for them to repair."
"Russia was forced to retreat from Kyiv region," Kushneruk said and alluded to alleged atrocities by Russian forces withdrawing from the city of Bucha. 
Kushneruk said that while many civilians were shot dead, "those who were lucky to stay alive, told tales [of] huge numbers of rapes, tortures, and mass graves. This is the crime against humanity."
He applauded the United Nations General Assembly vote on April 7 to suspend Russia from the UN Human Rights Council but said the move doesn't go far enough.
"What Russia deserves is to be expelled from the United Nations Security Council," Kushneruk said to a round of applause.
"Ukraine has a good chance to win this war" despite Russian air superiority. The "big fight," he said, will likely take place in eastern Ukraine, where Russian forces are concentrated.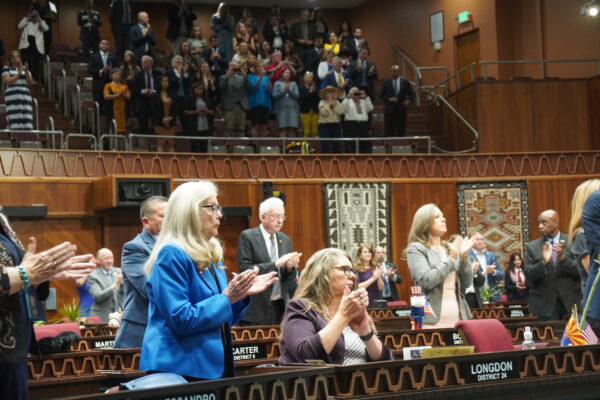 But at what cost?
Kushneruk said it will be necessary for continued military and humanitarian support from the United States, and other Western powers, so that more Ukrainian lives can be spared.
The United States "cannot afford to have Ukraine lose this war," he said. It would give "permission" to Russia to use force to redraw Ukraine's national borders and threaten the nation's right to exist. 
Ukraine Has Momentum
"This war is not between the East and West. It is a war for the soul of humanity," Kushneruk said. "The least that the United States can do is to provide Ukraine with the weapons we need to win this war." 
Such military hardware would include jets, long-range missiles, heavy artillery, armored vehicles, and other weapons to shoot down Russian jets. 
"You cannot win this war against Russia with just rifles and bulletproof vests. Ukraine needs three things, and these three things are weapons, weapons, and weapons."
Kushneruk said economic sanctions would prevent Russia from rebuilding its military. The opportunity to act is "now when Ukraine has the momentum when Russian forces are losing … Ukraine has destroyed [the] Russian army," he said.
Kushernuk lauded the passage of a new Lend-Lease Act of 2022 by the U.S. Senate in support of Ukraine as a positive step. However, he cautioned that "Ukraine should not be pushed by Western nations into a peace deal with Russia just for the sake of a short-term peace."
"We know Putin. We don't trust him. We don't trust Russians, because they lie all the time." Russia is "not a big power in the world anymore and everybody understands that."
After his address, Kushneruk spoke with several members of the media, including The Epoch Times.
Kushneruk said Ukraine hopes to receive additional aid from Arizona in the form of body armor, helmets, protective equipment, and humanitarian aid. 
Asked how Ukraine defines victory in the current conflict, he said a military defeat of Russia by Ukraine would be "most preferable, but the hardest to get."
Zelensky is "ready to negotiate," he said, but negotiations so far have not been "to the extent that we want them. We don't believe Russian promises."
"The most realistic outcome would be some kind of agreement because Ukraine is very strong now." 
No Guarantees
First and foremost, he said, Russia must guarantee Ukraine's national sovereignty as an independent state and provide strong security guarantees with support from the United States and other Western governments.
Whether Ukraine will join NATO—a major bone of contention by Russia—depends on NATO. The "best outcome" would be another special agreement that meets Ukraine's conditions, Kushernuk said.
Kushneruk was appointed Ukraine General Consul in San Francisco by his nation's government in July 2020, during the first year of the pandemic. 
When the war in Ukraine started, Kushneruk said his work has been focused on organizing support for Ukraine, and "to provide the right messages" to mobilize support. 
Kushneruk said any military hardware Ukraine receives from the West will not be used inside of Russia. 
"This is a defensive war for us. Ukraine is only defending itself," he said.
He added that Russia has no valid security concerns, but is "just creating their own narrative and trying to persuade the whole world" that it does.
The Russian government has framed the conflict in terms of "de-Nazification," demilitarization, and removal of right-wing militias attacking Russians in Ukraine.
Citing the Bucha incident, Kushneruk said Putin should be tried as a war criminal in a similar fashion to former Serbian president Slobodan Milosovic during the Balkan Wars. 
Asked to explain why Putin enjoys an 83 percent approval rating among Russians following the invasion of Ukraine, Kushneruk responded, "One thing is that the Russian population has been living in this information bubble," subjected to Soviet-style "propaganda," adapted to the current situation in Ukraine.
Viewing the war as a civilizational conflict between good and evil, Kushneruk refuted claims that Zelensky is a globalist.
"He is not a globalist. He is showing to the world that Ukraine is protecting itself, and not just itself, but the freedom and democracy, and this kind of civilization."
Kushneruk said that further military and humanitarian aid from the West will help prevent the war from spilling beyond Ukraine's borders. Russia's threats to deploy modern weapons, he said, are "just intimidation."
Arizona Sen. Sonny Borrelli (R) said the message of Kushneruk's address was "spot on."
"I'm with [Ukraine] 100 percent. We need to stop this communist aggression on Western Europe. Simple as that. It's cut and dried. You can't define it any other way.
We need as a country and in the state [of Arizona] to do everything we can to support them logistically. It's logistics that actually helps win wars. Without logistics, you can't win wars," Borrelli said.
"Putin has painted himself into a corner. He's got to get out of this without losing face."
Borrelli said he views economic sanctions against Russia as a "small part of the battle,' and that economic blowback from Russia's retaliatory decision to sell its oil for rubles, ousting the dollar, is the fault of the Biden administration.
"That sin is on [Joe Biden] and the other progressive communists that have taken over the Democratic Party," Borrelli said.