New Arizona School Choice Law Takes Effect After Bid to Repeal Falls Short
Topic starter
04/10/2022 10:21 am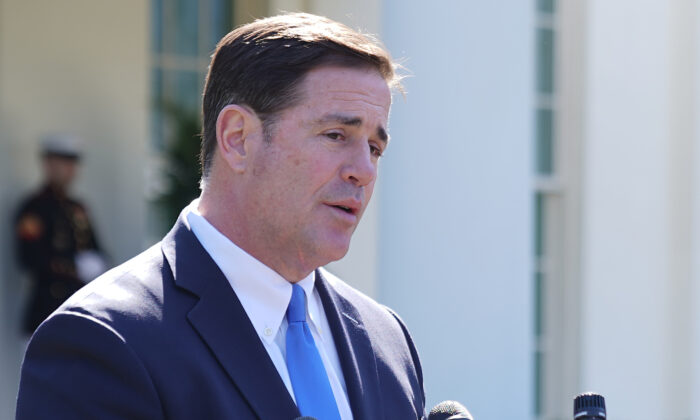 New Arizona School Choice Law Takes Effect After Bid to Repeal Falls Short
Arizona's new school choice law went into effect on Sept. 30 after a bid to repeal it fell short as supporters failed to gather enough signatures.
Arizona officials informed the Save Our Schools Arizona PAC that the referendum on the matter "will not qualify for the 2024 General Election Ballot," according to a Sept. 30 statement from Arizona Secretary Katie Hobbs, a Democrat.
The political action committee needed to gather 118,823 signatures.
That threshold will not be met, Hobbs said.
Arizona Gov. Doug Ducey, a Republican who signed the law over the summer, said: "Public education is about educating the public. Now every child in Arizona will have access to a high-quality school of their choice."
Save Our Schools had said that they handed in more than 141,000 signatures.
Secretaries of state perform a review of signatures for referendum proposals to verify which ones meet certain standards.
Save Our Schools, responding to Hobbs' announcement, said that the discrepancy stemmed from several factors, including "the incredibly high volume of returns of petitions in the final week, days, and hours of the campaign."
The development was a "devastating blow," the committee said.
The group blamed Ducey.
"We are confident we would have succeeded had Governor Ducey not waited 10 days to sign the bill, robbing Arizona voters of crucial time to sign the petition," it said.
The Goldwater Institute, which had questioned some of the signatures, said that the failure to get the proposal on the 2024 ballot was "a vindication of parents who are clamoring for choice in education."
The Law
House Bill 2853, the law, expands a school choice program called the Empowerment Scholarship Account Program.
The law removes restrictions for each student to receive $7,000 annually for education. The money can be used for, among other education expenses, homeschooling or private school.
"Arizona is now the gold standard for educational freedom in America," Ducey said in a previous statement. "Our kids will no longer be stuck in under-performing schools."
"By opening Empowerment Scholarship Accounts to every K-12 student, we will improve outcomes and make choice a reality for all students," added Arizona House Majority Leader Ben Toma, a Republican who sponsored the legislation.
Save Our Schools said it opposed the legislation because it would take money away from public schools.
"Arizona's public schools are on the verge of losing over $76 million virtually overnight as these ESA voucher funds are siphoned to private schools and homeschooling with little to no academic or financial accountability," it said. "This number will balloon rapidly over the next few years, potentially to over $1 billion per year."