Ex-Military Leaders Warn of Politicized 'Civil-Military Environment' Days After Biden Speech
Military Veteran Discussion
Topic starter
08/09/2022 3:07 pm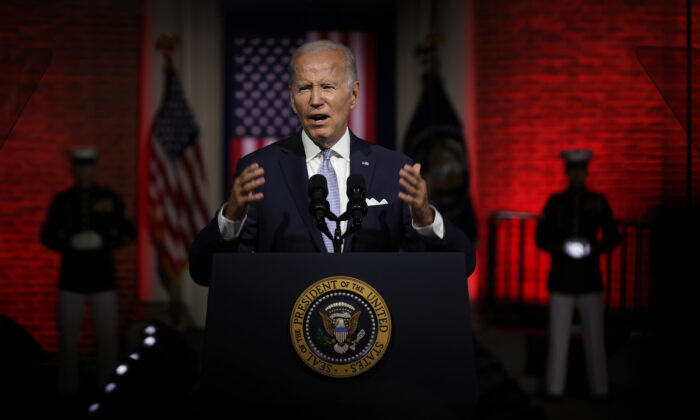 Ex-Military Leaders Warn of Politicized 'Civil-Military Environment' Days After Biden Speech
About a dozen former Department of Defense secretaries and Joint Chiefs of Staff chairmen signed a letter warning of a "challenging civil-military environment" days after President Joe Biden's speech that included two Marines behind him.
"We are in an exceptionally challenging civil-military environment. Many of the factors that shape civil-military relations have undergone extreme strain in recent years," they wrote in an open letter, citing the wars in Iraq and Afghanistan. The letter was posted on the War on the Rocks website on Tuesday.
"Socially, the pandemic and the economic dislocations have disrupted societal patterns and put enormous strain on individuals and families," they added. "Politically, military professionals confront an extremely adverse environment characterized by the divisiveness of affective polarization that culminated in the first election in over a century when the peaceful transfer of political power was disrupted and in doubt."
The letter did not address Biden's speech in front of two Marines in which the president sharply criticized supporters of former President Donald Trump and accused them of undermining core U.S. institutions, but they noted that military rules forbid political activities by service members.
"There are significant limits on the public role of military personnel in partisan politics, as outlined in longstanding Defense Department policy and regulations," the letter said. "Members of the military accept limits on the public expression of their private views—limits that would be unconstitutional if imposed on other citizens. Military and civilian leaders must be diligent about keeping the military separate from partisan political activity."
Former defense secretaries Mark Esper, Ashton Baldwin Carter, William Sebastian Cohen, Robert Gates, Charles Timothy Hagel, Jim Mattis, Leon Panetta, and William Perry signed the letter. They were joined by former joint chiefs chairmen Gen. Martin Edward Dempsey, Gen. Joseph Francis Dunford Jr., Adm. Michael Glenn Mullen, Gen. Richard Bowman Myers, and Gen. Peter Pace.
Red Flags
Writing for the New York Post, constitutional scholar Jonathan Turley argued there is "no way" Biden should have given last week's polarizing speech in front of two U.S. Marines.
"The optics instantly became a source of internet chatter with the weird red background that made the president look like he was giving a stump speech from Dante's Inferno. Indeed, it almost had that High Chancellor Adam Sutler look from 'V for Vendetta,'" he wrote.
Some critics of the speech said that the red lightning directly behind Biden was similar to imagery used by communist regimes, including the Chinese Communist Party. There were also blue lights being shone on the sides of a building where Biden spoke, but he stood directly in front of the red backdrop.
But, Turley added, "it was the use of the Marine guards that most stood out—framing the president as he declared Trump supporters a threat to democracy, denounced 'MAGA Republicans' 13 times, and repeated references to his past and possible future political opponent, Trump."
"The Marine Corps expressly forbids personnel from being used or participating in political events. Army officials stress that their rules bar such involvement because 'actual or perceived partisanship could undermine the legitimacy of the military profession and department,'" he wrote.