Supreme Court Declines to Block New York Gun Law Restricting Possession in 'Sensitive Locations'
Court Decision Discussion
Topic starter
12/01/2023 11:03 am
Supreme Court Declines to Block New York Gun Law Restricting Possession in 'Sensitive Locations'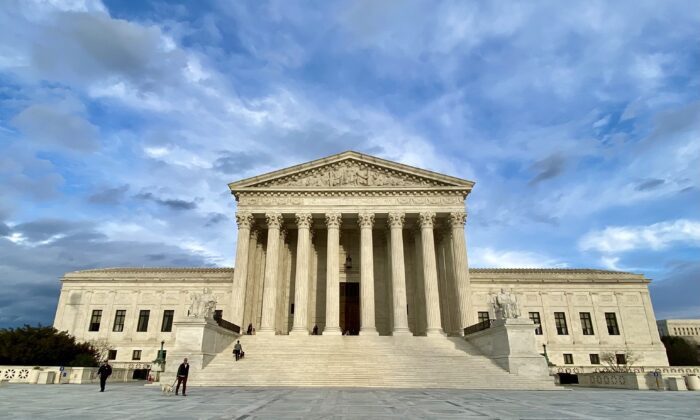 The U.S. Supreme Court is letting a New York gun law that restricts possession in so-called sensitive locations stand for now, denying an emergency request to block the rule.
A pro-Second Amendment group filed the request in December 2022, asking the court to lift a stay on an injunction against the law, the Concealed Carry Improvement Act (CCIA). Justice Sonia Sotomayor, an Obama appointee, received the request. She referred the request to the full court, which rejected it in an order released on Jan. 11.
Five justices must agree to grant an emergency request for a stay, or an emergency request to vacate a stay.
The court did not list each justice's position on the matter.
Justice Samuel Alito, a George W. Bush appointee, said in a statement that the New York law "presents novel and serious questions under both the First and the Second Amendments."
The law adds requirements to obtain a gun license and creates a list of public places dubbed "sensitive locations"—including churches, libraries, and summer camps—at which people are barred from carrying guns unless they know the owner of a location has permitted such possession "by clear and conspicuous signage" there.
The Gun Owners of America request came after U.S. District Judge Glenn Suddaby, a George W. Bush appointee, ruled that the gun owners who brought the suit were likely to succeed, and issued an injunction blocking enforcement of the law.
But an appeals court stayed the injunction in November 2022, enabling state officials to resume enforcement of the rule. Judges of the U.S. Court of Appeals for the 2nd Circuit said they concluded "a stay pending appeal is warranted" but provided no rationale for the move.
Alito said he understood the Supreme Court's denial of the emergency request "to reflect respect for the Second Circuit's procedures in managing its own docket, rather than expressing any view on the merits of the case."
"Applicants should not be deterred by today's order from again seeking relief if the Second Circuit does not, within a reasonable time, provide an explanation for its stay order or expedite consideration of the appeal," added Alito, who was joined by Justice Clarence Thomas, a George H.W. Bush appointee.
No other justices offered statements on the case.
"While we would have hoped for immediate relief from the Court, this statement from Justice Alito is incredibly reassuring, in that the court is completely prepared to step in and re-assert the Bruen precedent should lower courts fail to properly, and in a timely manner, apply it in judicial cases where Second Amendment rights are being restricted," Erich Pratt, senior vice president for Gun Owners of America, said in a statement. "We look forward to continuing the fight against New York's draconian law."
"We have a right to enact commonsense measures to protect our communities, and I am pleased with the Supreme Court's decision to allow New York's concealed carry gun law to remain in effect," New York Attorney General Letitia James, a Democrat, said in a statement. "Too many New Yorkers are plagued by gun violence, and we know that basic gun laws help save lives every day. My office will continue to use every tool at our disposal to protect New Yorkers and defend our responsible gun laws."
Arguments
In their request, applicants said that the appeals court failed to provide "any reasoned analysis" for staying the injunction and called for the stay to be lifted because they are being "irreparably harmed" by the law's alleged infringement on their constitutional rights.
That includes Joseph Mann, a pastor who cannot carry inside his home because it is part of a church.
"As applicants no longer may freely carry their firearms in public to defend themselves and their families, this unconstitutional statute places their safety and security in very real danger. And, as there are tens of thousands of New Yorkers who are similarly situated, but who can no longer defend themselves against violent criminal acts while in public, it is not a matter of if—but when—the CCIA quite literally means the difference between life and death," the application stated.
In a reply, New York lawyers said that applicants did not prove the appeals court erred and that it was in the public interest to keep the stay in place.
One component of the law requires license applicants to prove they have "good moral character." Lifting the stay would essentially require the state "to issue licenses to people with a demonstrated propensity to misuse firearms," lawyers for the state argued. On the other hand, the injuries cited by Mann and the others "are either hypothetical or sufficiently narrow that they cannot overcome respondents' strong showing on the merits and equities," they added.
In a reply to the reply, applicants said that the intention of New York Gov. Kathy Hochul calling for a special legislative session in 2022, during which the law was enacted, was not to comply with the Supreme Court's summer of 2022 decision that struck down a different New York gun law. As proof, they pointed to Hochul's statements vowing to "fight back" against the decision, which was described as "reckless" and "reprehensible."
"New York's blatant repudiation of Bruen and this Court's authority to safeguard constitutional rights presents a compelling case for review at any stage," they said, and "respondents' plea for this Court to stand down is not persuasive here, where a state has reflexively enacted a law with the express purpose of defying and challenging a recent decision of this Court."
The decision in Bruen found New York's system for gun permits ran afoul of the Second Amendment. Governments imposing gun regulations "must demonstrate that the regulation is consistent with this Nation's historical tradition of firearm regulation," Thomas, writing for the majority, said.