Parts of New Jersey Gun Law Violate 2nd Amendment: Federal Judge
Court Decision Discussion
Topic starter
12/01/2023 11:13 am
Parts of New Jersey Gun Law Violate 2nd Amendment: Federal Judge
'While New Jersey may have been the first state to ratify the Bill of Rights, it's the last state to recognize it,' gun rights activist says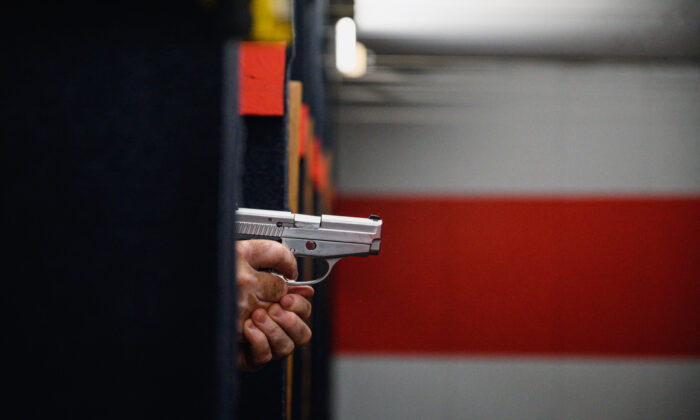 A federal judge in New Jersey has blocked portions of a newly implemented gun control law, saying it might cause "considerable Constitutional problems."
On Monday, U.S. District Judge Renée Marie Bumb issued a temporary restraining order (pdf) on behalf of three individuals and four gun rights organizations regarding a law recently enacted by the New Jersey Legislature. The law—sponsored by New Jersey Senate President Nicholas Scutari and state Sen. Linda Greenstein, both Democrats—implements a third-degree felony classification for those who "knowingly carry a firearm" into "sensitive places," such as libraries, museums, restaurants, theaters, stadiums, race tracks, and on "any private property," unless the owner "has provided express consent or has posted a sign indicating it is permissible" to carry a concealed gun or any "destructive devices."
The law comes in response to the surge in concealable gun sales in New Jersey following the U.S. Supreme Court's 2022 decision in the case of the New York State Rifle & Pistol Association v. Bruen, which struck down restrictions on carrying guns outside the home in New York
While introducing the legislation (pdf) in New Jersey's General Assembly in October, Democrat Assemblyman Joe Danielsen said, "I'm a gun owner. I enjoy my guns often, but I enjoy the right to have those guns and to use them responsibly. This bill provides zero conflict."
Bumb disagrees.
Citing the Bruen precedent, Bumb said "the Court finds that the challenged provisions have chilled Plaintiffs' reasonable exercise of their Second Amendment right" and "rejects the Defendants' view that Plaintiffs cannot show irreparable harm just by alleging Second Amendment injury."
In her conclusion, Bumb said "the deprivation of Plaintiffs' Second Amendment right, as the holders of valid permits from the State to conceal carry handguns, constitutes irreparable injury, and neither the State nor the public has an interest in enforcing unconstitutional laws. Accordingly, good cause exists, and the Court will grant the motion for temporary restraints."
Following the passage of the measure by a narrow 21–16 vote with three abstensions, Scutari said Democrats felt obligated to pass the bill—which he described as a "big piece of legislation" and "a well-thought-out piece of legislation" that took "a lot of work"—before the holiday break in December.
In rendering her opinion, Bumb said the defendants "must do more than the promise they will justify the Constitutional basis for their legislation later," adding that the defendants' decision to "dedicate a significant portion of their argument discussing the benefits of the firearms regulations and not evidence of historical analogs is quite telling."
Although the defendants said they would "offer ample evidence" that their law is constitutional, Bumb said "they do not adequately explain why they have not introduced such evidence here."
'Victim Zones'
Alex Roubian, president and managing editor of the New Jersey Second Amendment Society (also known as NJ2AS), is pleased with the judge's decision.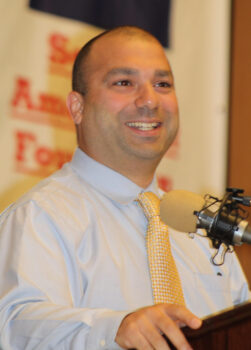 "We are happy that the judge saw through their nonsense and believes that citizens have the right to protect themselves, the same way those like Governor Phil Murphy do," Roubian told The Epoch Times.
NJ2AS is one of the four organizations involved in the case.
"The people that enacted this law, and Murphy, who signed the law, have 24/7 armed security," Roubian noted, adding that "they have the ability to protect themselves wherever they go and they believe that someone will go into one of these so-called 'sensitive areas' and be immune from attacks. Thankfully the judge agrees with us, that we have a right to protect ourselves no matter where we go."
Asked why New Jersey legislators and the governor would move forward with such a measure, considering the Supreme Court's Bruen ruling, Roubian said it was all about "political theater and posturing."
"They want to push this narrative that guns are bad. What they won't tell you is that millions of people use a firearm for self-defense every year," Roubian asserted.
Incidents of Self-Defense With Guns
According to a 2021 National Firearms survey (pdf), guns are used defensively approximately 1.7 million times per year in the United States.
Among survey respondents, 81.9 percent said they had used a gun defensively without firing any shots. Displaying the firearm was sufficient enough for 50.9 percent of respondents to scare off their attacker. Another 31 percent said a verbal warning that they were armed was enough to prevent the attack.
Only 18.1 percent of those surveyed said they had to fire their gun to defend their life.
Data released by the Centers for Disease Control and Prevention in October 2022 showed there were 20,966 firearm homicides from 2020 to 2021. While firearm homicides were 35 percent higher than from 2019 to 2020, it was less than the number of times lives were saved by having a firearm for self-defense.
What some call "gun-free zones" and New Jersey legislators call "sensitive places," Roubian refers to as "victim zones."
"It's outrageous that these politicians, Governor Murphy and Attorney General Matthew Platkin, surround themselves with guns. But when it comes to protecting children in schools, the most vulnerable, most valuable asset we have as a society, they believe a 'no guns allowed' sticker on the door will protect them from a deranged individual that wants to create harm."
By identifying specific "sensitive places" where people with concealed weapons are not permitted to take their firearms, Roubian said they are "literally putting a gigantic, bullseye target on these areas telling people who want to create harm that they will have easy victims with zero capability to fight back in this location."
Lawmakers Have 'Gone Too Far'
Alan Gottlieb, executive vice president of the Second Amendment Foundation (SAF), is also happy with the judge's ruling.
The SAF is another of the four gun rights organizations involved in the case.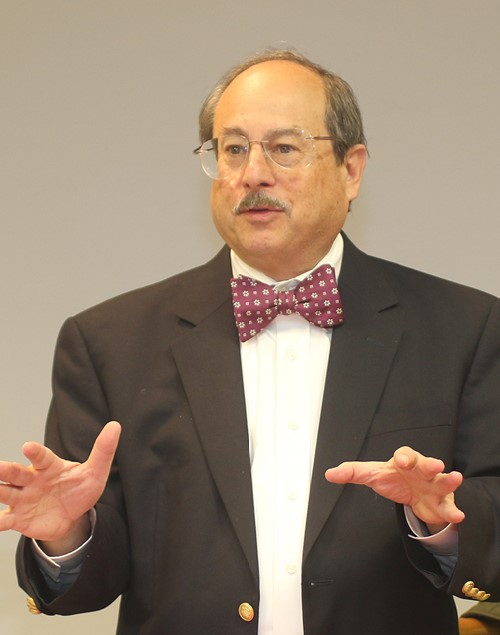 "We're pleased with Judge Bumb's recognition that the probability of success in challenging this law is great and that the law does restrict the right to keep and bear arms in public," Gottlieb told The Epoch Times, adding that "there is no basis in this country's history or tradition" that would allow such a law to stand.
"Quite frankly, it's another example of the important precedent that was found in the Supreme Court's Bruen decision last June," he added. "New Jersey's lawmakers have gone too far in drafting a law to try to get around the high court's decision. We knew they couldn't, and they can't. But New Jersey has a long track record of pushing all kinds of restrictions and prohibitions on Second Amendment rights."
Gottlieb asserted that "while New Jersey may have been the first state to ratify the Bill of Rights, it's the last state to recognize it."
"The battle for Second Amendment rights at the Supreme Court level has been going on for nearly two decades," Gottlieb noted. "With Heller, McDonald, and Bruen already set as precedent by the high court, New Jersey is one decision past the 'three strikes, you're out,' rule. They should be protecting the Second Amendment gun rights of New Jersey's citizens, not passing new laws to restrict them."
'We Need Those Laws'
In the wake of the deadly 2022 shooting at an elementary school in Uvalde, Texas, Murphy revived a 2021 gun control package he called "Gun Safety 3.0," challenging New Jersey legislators to put the measures up for a vote.
"Let's make every legislator choose whose side they have chosen to be on, the people of New Jersey on the one hand, or the gun lobby on the other hand," he said.
On July 5, Murphy said "there were those who said we would never get the gun safety bills we supported through the Legislature," and that "we were too ambitious, that the gun lobby was too strong, and that our political system would not have the will to take on and win this fight."
"But, again, we believed different. And guess what? Today, we are making Gun Safety Package 3.0 the law," he said.
Murphy criticized what he called "the right-wing majority that controls the United States Supreme Court," saying they "erased our ability to decide for ourselves who can, and who can't, get a permit to carry a concealed weapon."
"In the face of the Supreme Court's tragic and wrong-headed ruling, we need those laws—and all of these laws—more than ever," he said.
In a July 5 post on social media, Murphy touted the signing of "seven sweeping commonsense gun safety reforms." In a second post, Murphy summarized how the seven new laws would affect the citizens of his state.
The new laws would:
Require out-of-state firearm owners who move to New Jersey to obtain a firearm purchaser ID card and register all of the handguns they purchased in other states.
Mandate that New Jersey citizens who want to purchase a firearm must take a certified firearm safety course, under certain circumstances.
Require the development of an electronic reporting system to track and regulate all handgun ammunition sales.
Ban all .50 caliber rifles.
Provide the New Jersey attorney general the authority to take legal action against gun manufacturers for alleged public nuisance violations.
Increase criminal penalties for the manufacturing of so-called "ghost guns," which lack a serial number.
Require gun store owners to sell microstamping-enabled firearms once the attorney general determines the technology is commercially available.
'Legislative Insurrection'
Republican Assemblyman Erik Peterson said the law being challenged in court was a "legislative insurrection."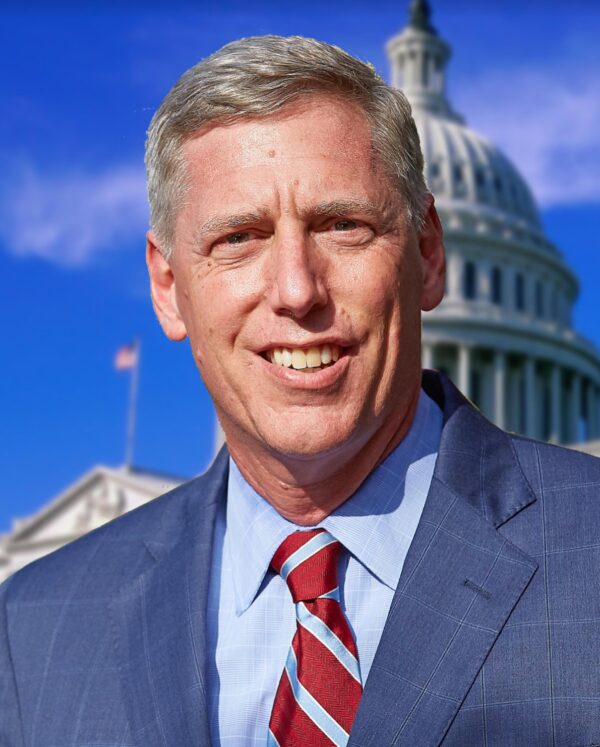 "Judge Bumb's ruling on the New Jersey Democrats' overreaching anti-conceal carry law gives me hope that New Jersey Democrats' constant attack on the fundamental rights of the people of New Jersey may have come to an end," Peterson said in a statement issued to The Epoch Times.
"It is now time to take this momentum and for We the People to unite and take back our state from the control of Democrats," he said.
Republican state Sen. Michael Testa called the law "absolutely wrong."
In a statement issued to The Epoch Times, a spokesperson from Testa's office said the senator "opposed the bill in Committee and again on the Senate floor."
He previously noted the flawed nature of the bill as it was pushed through the New Jersey Legislature in October.
"Once again, the Democratic Party is showing its ignorance of the law, the Constitution, and common sense in the pursuit of applause from the anti-gun crowd through a proposal that will do absolutely nothing to stop crimes committed with illegal guns," Testa said in a news release at the time.
"Maybe the proponents of this bill should read the law before they pass a poorly written bill that would turn everyone into criminals regardless of whether they even own a gun," he said.
Testa's spokesperson said the judge's decision "is proof of the senator's points in October and on the Senate floor in December."
The Epoch Times reached out to Platkin, Danielsen, Scutari, Greenstein, and Murphy for comment.